Kount eCommerce Fraud Prevention for X-Payments Merchants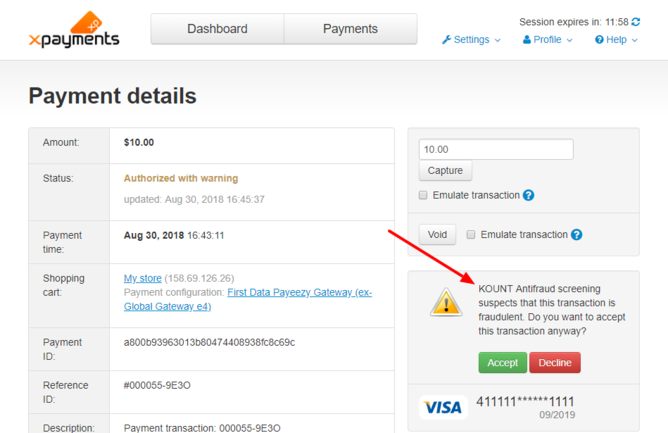 X-Payments partners with Kount to identify and stop fraudulent orders by analyzing customer data and purchase behavior on every transaction. Linked by AI, Kount's Identity Trust Global Network combines trust and fraud signals from 32 billion annual interactions to block fraud in real time, and to enable personalized customer experiences.
Kount's AI-driven fraud prevention solution protects companies from even the most sophisticated payments fraud attempts. It simulates an experienced fraud analyst by weighing the risk of fraud against the value of the customer, but on a faster and more scalable basis. Built to recognize patterns, anomalies, linked associations, as well as learn from historical outcomes, it detects complex and common fraud in milliseconds.
Kount helps merchants reduce manual reviews, false positives and chargebacks while accepting more good orders and improving customer experience.
On average, merchants who use Kount:
Reduce manual reviews up to 83%
Reduce false positives up to 70%
Reduce chargebacks up to 99%
Increase operational efficiencies up to 65%
Optimizing Kount with Device Data Collector
Kount's fraud prevention solution is enhanced when used in conjunction with the Device Data Collector (DDC). It collects a comprehensive set of data that positively identifies a device in real time — whether fixed or mobile. This process also collects data that is fed into Kount's analytics, decision, and artificial intelligence engines. DDC technology needs to collect device info directly from the checkout pages.
Data Collection is the process of collecting computer or mobile device-related information from the consumer. An image, referred to as the "data collector image," is loaded onto the merchant's checkout page, and when this image 'reloads' upon being opened in a customer's web browser, attributes of the physical device are captured and sent to Kount to be used in the risk evaluation.
Benefits of using the Device Data Collector include:
Optimizes AI-driven fraud predictions with critical device information (IP address, location, network type, user language, time zone, etc.)
Allows for the linking of different devices to correlate disparate customers
Enhances chargeback reduction initiatives with device order details
Provides insight into the specific location of the originating transaction
Identifies the type of network being used
Identifies device time zone and language settings
Implementation Best Practices and Card Testing
Merchants can implement Kount either pre- or post-authorization depending on their objectives. To determine which is best for an X-Cart merchant, consider:
Do they have issues with card testing?
Are they concerned about bank authorization information not being available (AVS, CVV, Auth, etc.)?
Can they derive ROI while not sending obvious fraud transactions to the processor?
Pre-Authorization
If the merchant is experiencing card testing, Kount recommends implementing pre-authorization so that card testing is identified immediately after a customer places an order. This way, the transaction is declined before authorization fees are applied.
Note – it is important to use Mode U (Kount Update) if pre-authorization is implemented because it updates Kount of the payment's authorization status, as well as any AVS or CVV checks performed. Kount makes this data available in the appropriate transaction for the reviewer, as well as feeds this information into the supervised machine learning for nightly retraining leading to improved AI performance.
Benefits of pre-authorization:
Ideal for card testing fraud.
Reduces costs by reducing authorization and 3DS checks.
Requires velocity check rules to decline transactions.
Allows the merchant to avoid processing fees on orders set to "decline" by policies configured within Kount.
All credit card information can be sent to Kount.
Post-Authorization
In post-authorization, card testing is identified after other verification checks are performed. Therefore, the merchant is charged transaction fees that may not be necessary with pre-authorization payment process flows.
Benefits of post-authorization:
If a merchant wants AVS, CVV is included in the Kount analytics.
Provides more data for risk analysis.
All payment gateway information can be passed to Kount (Authorization, AVS, CVV) allowing rules to be created regarding AVS and CVV data.
Some payment gateways do not pass credit card data once they have received it, (this will prevent any linking on Payment Token across the Kount Network).
With a single RIS query, no update is necessary.
Cost considerations – the merchant will pay for inquiries to the payment processor even for AUTH=D orders. Only AUTH-A orders are posting in Kount.
Get the Best
Expert-Backed

Tips into Your Inbox

Only one email a week, we promise

Awesome! You won't be disappointed 😉
Alex Mulin
Head of X-Payments
Head of X-Payments product, ice hockey player, history geek. Let's connect on Linkedin.